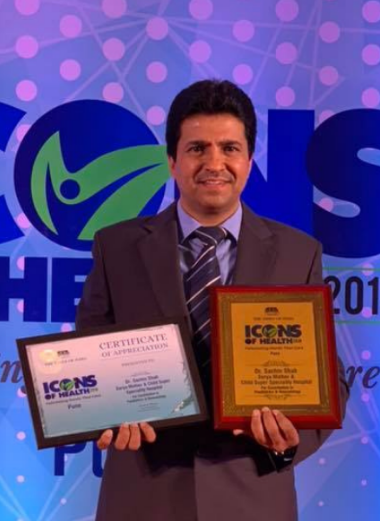 Welcome to Dr. Sachin Shah
Current Designation
:
Director, Neonatal and Pediatric Intensive Care services
Surya Mother and Child Superspeciality Hospital, Wakad, Pune
Educational Qualifications
:
M.D (Pediatrics), D.M. (Neonatology),
Fellowship in Neonatology (Australia & Canada),
Fellowship in Pediatric Intensive Care (Canada)
Sanskruti Bhalerao
2022-12-09
Wonderful care by all doctor from surya hospital, I would like to say thanks to dr. Sachin shah for taking care for my baby. Thank you sir..
It was great experience with Sachin Shah sir.
Ashwini Bhandwalkar
2022-12-07
We are extremely thankful to Dr Sachin Shah for always providing the right treatment and the right guidance whenever needed for our child. Over the years, we have very well known how a great doctor is indeed an angel in disguise. Thank you Dr Shah 🙏🙏🙏🙏
Experience was very bad after being in the long queue for 1 hr doctor give us only 5 min did not clarify my queries. I Visted there for my 11 month daughter after checking reviews on google. They charge very high fees just for 5 min waste of time and money. Disappointed😞
Shital Wankhade
2022-12-03
Best Doctor
Dr. Shah is a brilliant person and best doctor. Im very happy with he's treatment. Thank you Dr.
Shrikrishna Barure
2022-11-28
Hospital infrastructure is very good. The rooms are good space and large,even general ward is also neat and cleaned. Doctors are very good. Surya is a really superb hospital for all patients. Prompt and courteous services by doctors. I had a wonderful experience. Dr. Sachin shah is the best doctor and perfect pediatrician. We are always happy with he's treatment.
Apurva Suryawanshi
2022-11-22
सूर्या हॉस्पिटल हे हॉस्पिटल नसून एक सात्विक जागा आहे . इथले डॉक्टर त्यांचा स्टाफ अतिशय केअर फुल आणि प्रेमळ आहे. इथे अशक्य गोष्टी शक्य केल्या जातात. जेव्हा पेशंटचा त्रास वाढतो , तेव्हा डॉक्टरांची होणारी तळमळ मी खुप जवळून अनुभवली आहे. येथील नर्सेस प्रत्येक मुलाला एखाद्या आई प्रमाणे सांभाळतात. प्रत्येक पेशंटला हॉस्पिटल नकोसे वाटते , पण येथे येणाऱ्या पेशंटला इथल्या लोकांना वारंवार भेटायला यावस वाटत. या हॉस्पिटल चे वैशिष्ट्य म्हणजे पेशंटच्या नातेवाईकांना खूप मोठा मानसिक आधार दिला जातो . माझ्या साठी सूर्या हॉस्पिटल म्हणजे माझ्या आणि माझ्या बाळाच्या आयुष्या मधला खूप मोठा टर्निंग पॉइंट आहे . आमच्यावर आलेली वेळ खूप वाईट होती, परंतु स्वामीकृपेने आम्ही वेळेवर या हॉस्पिटल मध्ये पोहोचलो . इथे आल्यानंतर मला शहा सर , अमिता मॅडम आणि गणेश सर हे असे ३ लोक भेटले ज्यांच्यामुळे मी या संकटावर मात करू शकले. तस या हॉस्पिटल मध्ये येऊन मी बऱ्याच गोष्टी शिकले . या सगळ्या साठी सूर्या हॉस्पिटलचे आणि इथल्या संपूर्ण स्टाफचे मनापासून धन्यवाद !
Vikal ranaware
2022-11-22
My experience about Surya Hospital and Dr. Sachin Shaha sir very good with. I have verry strong trust on Dr.Sachin Shaha sir. I have seen their team and their efforts towards patiant to save patiant life. Truly it was great experience.
Punam Hiwarale
2022-11-15
Dr Shah is a very good person. He's very straight forward. Best pediatrician.