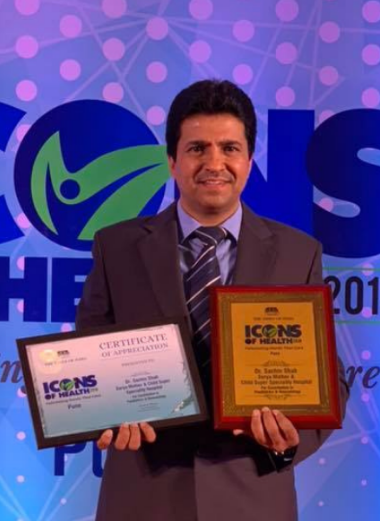 Welcome to Dr. Sachin Shah
Current Designation
:
Director, Neonatal and Pediatric Intensive Care services
Surya Mother and Child Superspeciality Hospital, Wakad, Pune
Educational Qualifications
:
M.D (Pediatrics), D.M. (Neonatology),
Fellowship in Neonatology (Australia & Canada),
Fellowship in Pediatric Intensive Care (Canada)
ravindra suryawanshi
2023-07-04
We are nice experience with shah sir. He is great and most experienceble doctor in this city. He is best doctor for paediatric and new born baby.
Akshay Lokhande
2023-07-03
Great experience with dr.shah sir .he is great pediatrician in Pune City.we recommend to our family and friends also.thank you sir.
Rushikesh Ghadge
2023-07-03
Surya hospital best in pune cleaning and all services all good
Excellent doctor and his knowledge. He is very supportive when my patient was admit in surya hospital. Thanks for your support sir.
Akanksha Kadam
2023-06-28
Experience with dr.shah sir it was really good.he is best and best pediatrician in pune city.and he is highly qualified and highly skilled pediatrician in wakad city.thank you so much sir for giving best treatment to my patient.we are satisfied with surya hospital and also Dr.shah sir.🙏
bhagyashri kudale
2023-06-27
Dr.shah is best and mostly highly experienced paediatrician.he clearly explain medical procedure for the disease.we recommended Dr shah sir to our friends..we always had good experience with Surya mother and child care hospital.
Dipshikha Paul
2023-06-25
Great experience with Dr Shah sir he very talented and highly experienced doctor.he is the best pediatrician in this City . We recommend Dr Shah sir to our friends and their experience was also good .we thank him a million .
Sarika Shitole
2023-06-24
Best Doctor for children. Very nice person. Give best treatment to my child
Visited this doctor for a regular checkup of my 4 month old baby. Didnt have a great experience at all. The doctor and his staff always seemed in a hurry, not giving us enough time to handle our 4month old and explain his issues/symptoms to him. He let us go real fast. When we came out, almost felt like we left lots of things undiscussed, due to the hurry. Worst part was the fees. For first regular visit, I was charged 1350 rs, pretty hefty and high end if you ask me for the area and the kind of service he provided!! Overall, didnt find him to be a long term friendly kids doctor where i would like to take my kid again and again for any sort of issue